As a continuation of our Polling development we have imported the first Scandinavian Poll Charolais bull into the UK.
Poll Bull Av Nyas Carlson was purchased from Anders Wiklert in Sweden in 2008 and has proved to be a truly outstanding sire. 

He is exceptionally easy calving and his temperament is so good it would be hard to find an animal with a better disposition. Good natured animals have always been a cornerstone of breeding of the Cockerington Herd but Carlson's progeny takes it to a new level.
Carlson has now been joined by another Swedish POLL bull – Av Askome Famous – from the herd of Lennart and Frederik Nilsson. He will be used over Carlsons daughters to produce 3/4 bred Swedish POLL Charolais.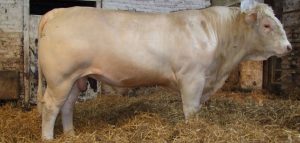 This year we  have a supply of quality 2 year old POLL bulls and heifers, sired by Av Nyas Carlson and Askome Famous for sale.